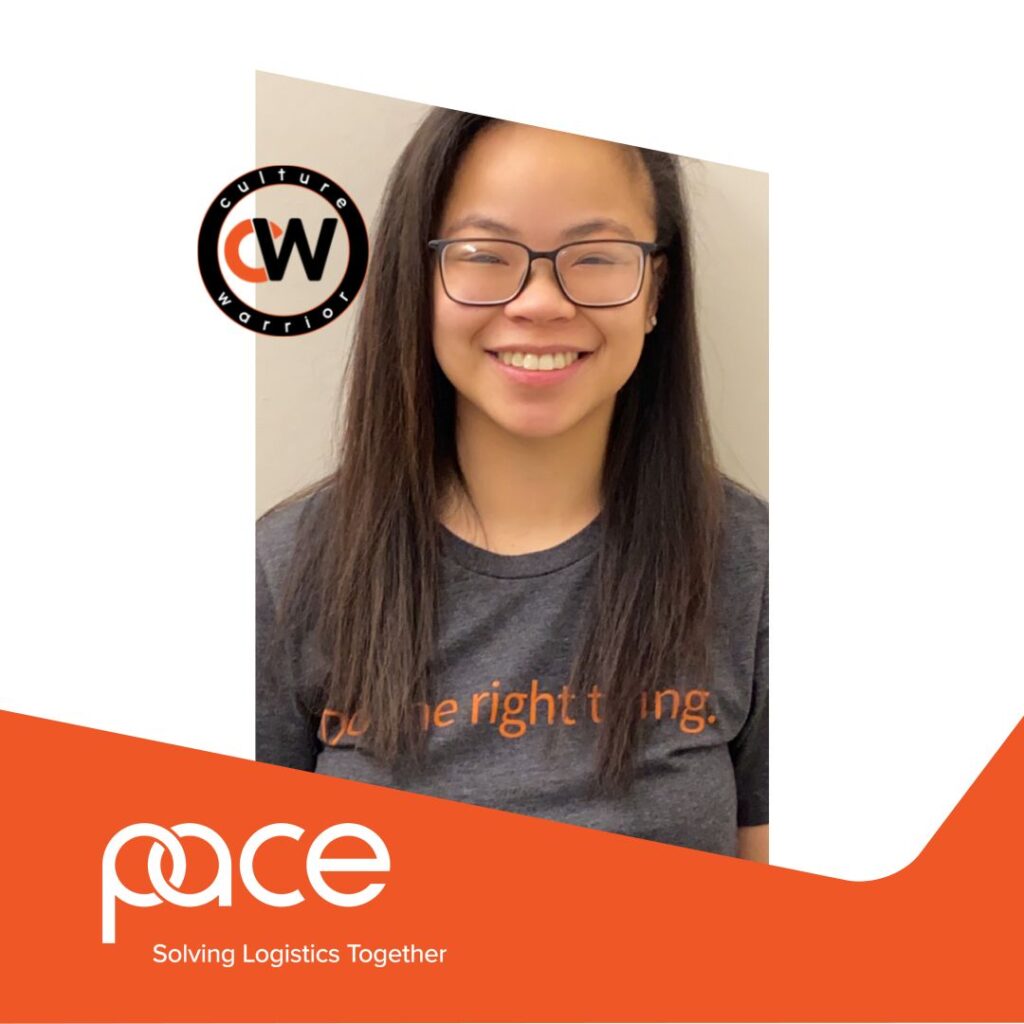 Pace Culture Warrior Christine Lam enjoys being an assistant coach for her boys' youth soccer program. As a Logistics Supervisor at Pace Dallas, it's obvious she also enjoys coaching and encouraging her team on our quest for Solving Logistics Together, as we serve our customers and each other.
Christine's enthusiasm for her work is evident, as she talks about "working in a positive environment"; "encouraging everyone to engage"; and "pushing to the next level."
Christine received five nominations for Culture Warrior. Her nominators expressed their admiration for her presence with them in Dallas including her being a great leader, very helpful, working hard to run the warehouse smoothly, and always knowing how to lead the team.
Celebrating her second year with our company in March, Keeping Pace conducted a short interview with Christine to enlighten all of us as to what makes her such a great teammate.
KEEPING PACE: Please tell us about your role at Pace Dallas.
CHRISTINE: I oversee and supervise the shipping and delivery of materials for retailers. This involves managing the loading of trucks, setting up delivery routes and the unloading of product.
KEEPING PACE: What do you find challenging about your work, and what resources do you draw upon to help you?
CHRISTINE: One challenging thing about work is managing the consistency of performance for all processes in our operation. One resource I depend on is our weekly huddle-ups with dock crew members to review performance errors and any changes we need to make to improve processes.
KEEPING PACE: What things happen at work that you consider very challenging?
CHRISTINE: Late linehauls extending to longer workdays; always expect the unexpected!
KEEPING PACE: What makes you happy about your work?
CHRISTINE: Seeing our dock crew working in a positive environment! Building teamwork through huddle-ups that welcomes input and encourages everyone to engage where I get to appreciate different points of view. Through expressing appreciation for our progress and accomplishments toward claims, this crew makes the difference, and I am just here to support.
KEEPING PACE: What does our core value – Do what you say – mean to you in the work you do with our teammates and for our customers?
CHRISTINE: To get the job done, my teammates, dock crew and I must hold each other accountable to see success and growth in results. In return, we can build trust with each other to accomplish our goals.
KEEPING PACE: What does Do what you say mean to you outside of working with Pace?
CHRISTINE: Being responsible with accountability for all actions is a matter of integrity and trust, and I wouldn't feel good about myself if I didn't keep my word. I want my family and friends to know that I am trustworthy and reliable when I do what I say.
KEEPING PACE: Who or what inspires you?
CHRISTINE: Even the parts that I dislike, my past is a form of inspiration to me. I see that being challenged and going out of my way to push to the next level for change is inspiring.
KEEPING PACE: Please share with us a little insight into your background and/or your life outside of work? What do you want your Pace family to know about you?
CHRISTINE: Prior to joining Pace, I spent 5 years at UPS supervising in various departments such as Air International and Feeders dispatch. Outside of work, I enjoy being assistant coach for my boys' youth soccer program along with finding new things to do around town with my fiancée Julie. We are also currently planning a wedding for this October!
Responsibility. Accountability. Integrity. Trust. All powerful words. Whether from her nominators for Culture Warrior; her teammates at Pace; our customers; or her family and friends; it's evident that Christine takes being helpful and being of service seriously, contributing to the happiness and success of those around her.